LaBelles Birch Point Camp, Devlin Ontario


Camp owner, Dale La Belle purchased Birch Point in 1981 after leaving his logging career. Dale has lived in the area all his life and enjoys fishing as well as hunting. He has guided since he was a teenager and knows the area like the back of his hand. He has turned the shabby 8-cabin resort into a 12-cabin resort building all new cabins as the years passed. Birch Point has been named as one of the top 20 resorts in Northwestern Ontario.
OPEN ALL YEAR - ICE FISHING, SNOWMOBILING, SKATING, SKIING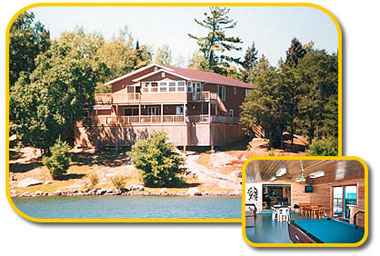 FISHING
Fish for walleye, northern pike, trout, crappie and bass on Rainy Lake or one of the many portage or near-by lakes. In-fisherman magazine named Rainy Lake as the No. 1 small mouth bass fishery in North America.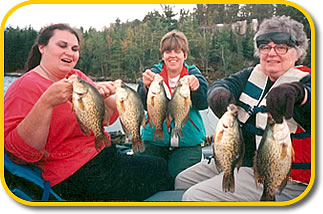 We have 6 cabins fully winterized and we are located on the Trans Ontario Provincial Snowmobile Trail. Our area is excellent for ice fishing for crappies,lake trout and northern pike.
CABINS
Birch Point consists of 12 fully equipped cabins nestled among a stand of birch trees overlooking scenic Northwest Bay of Rainy Lake. Capacities very from 1-3 bedroom units each consisting all the necessities and conveniences to make your stay both comfortable and memorable. Each cabin has 4-piece baths with hot and cold running water, new beds, electric stoves, refrigerators, linens, blankets, towels, cooking utensils, dishes and cutlery. Enjoy the peaceful evenings out on your screened in porch overlooking the lake. B.B.Q.'s are available.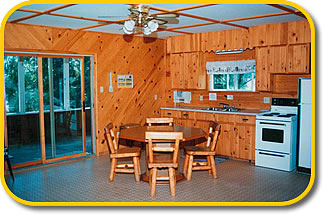 Our beautiful main lodge is equipped with a convenience store, air-conditioned sitting room and a newly added game room. Many guests come and share fishing tales, play pool or cards, watch satellite t.v. Or just enjoy the spectacular view of Rainy Lake off our front deck.
CONTACT INFORMATION
LaBelle's Birch Point Camp
R.R. #1
Devlin, Ontario
P0W 1C0 Canada
Phone: (807) 486-3345
Fax: (807) 486-1164
Email: info@labellescamp.com

How to get here....
Enter Canada through International Falls-Fort Frances or Baudette-Rainy River border. Then take Highway 11-71 to Devlin and turn north onto Highway 613. This will take you directly to our camp. Each way is about a 45 minute drive or about 35-40 miles. See you when you get here!
RATES
Service available to campers, tenters and recreational vehicles: 110v / 15 Amp electrical power, shower and bath house facilities, beach, marina, fish cleaning facilities, ice and freezer accommodation (as available).
To confirm your reservation, we must know the dates of your arrival and departure. A $300.00 Cdn / $200.00 US deposit is required (full refund will be given with 90 days notice). Guiding available.
2007 Rates

All Fully Modern Furnished Housekeeping Cabins




(Taxes not included)

All Cabins
Day
Week
Party of 2
$100 Cdn
$625 Cdn
Party of 4
$190 Cdn
$1200 Cdn
Each additional adult $40 Cdn / per day.
Dependent children, three to ten years of age $15 Cdn / per day.
Children, ten to sixteen years of age $25 Cdn / per day
(Children under three free of charge)

Winter Rates - All Cabins




(Valid January - April)

$40 Cdn per day / per person
$15 Cdn per day / per child
(Prices do not include taxes)

BOAT & MOTOR PACKAGE - (Cabin Guests)




(Taxes not included)

18' Princecraft Boats with 40HP Electric Start Mercury Motors. Packages includes livewells, swivel seats, floors, lifejackets, trolling motors, fish finders and 5 gallons of gas daily.
Day
Week
$165 Cdn
$950 Cdn
To avoid disappointment, please reserve boats and motors in advance.
Guides are available if needed. Taxes extra.
Boats available on the following lakes: Despair, Biddison, Caribou, Cloverleaf, Spencer, Mainville and Ottertail.
To confirm your reservation, we must know the dates of your arrival and departure. A $300.00 Cdn/200.00 Usd deposit is required (full refund will be given with 90 days notice). Guiding available. We have 6 cabins fully winterized and we are located on the Trans Ontario Provincial Snowmobile Trail. Our area is excellent for ice fishing for crappies, lake trout and northern pike.

Campers & Tenting




(Taxes not included)

1/2 ton campers & tents
$35 /day Cdn
Other campers
$40 /day Cdn
Weekly
$250 /week Cdn
Additional people
$10 /day Cdn
Seasonal Camping / $1,300 Cdn for season - (May-October)
Monthly Camping / $500 Cdn per month
Parking
Casual Parking / $10.00 per day


(DOES NOT APPLY TO REGISTERED GUESTS)

Parking of Boats or Recreational Vehicles - In Parking Lot




(DOES NOT APPLY TO REGISTERED GUESTS)

Season Rate $200.00 Cdn per vehicle
Weekly $50.00 Cdn per vehicle
Daily / $10.00 per day
Boat Launch / $10.00 per day

Fall Bear Hunting and Fishing Packages for non-residents

$2,000 Cdn / per person for 7 days.


(Licenses and taxes are included)

Deer Hunting and Fishing Package for non-residents

Week stay includes cabin, meals, gas, guides, boat and motor, use of trucks and ATV's. Licenses are extra.
7 days - $2100 Cdn / per person plus taxes
OPEN ALL YEAR - ICE FISHING, SNOWMOBILING, SKATING, SKING


https://www.labellescamp.com