Birch Bank Camp, Restoule Ontario



Birch Bank Camp is located in the heart of Ontario's "Near North" tourist region. Ontario's Near North is the ultimate vacation destination.
Beautiful lakes and clean camp grounds combine to create a perfect haven in which to camp, fish, hike and just plain relax!
We are situated between the famous "Loring Deer Feeding Yards" and "Restoule Provincial Park". Wildlife, from the occasional deer or fox to ducks and loons, are commonplace. We offer spacious cottages, scenic tenting sites and fully serviced trailer sites on the southwest side of beautiful Commanda Lake at the village of Restoule.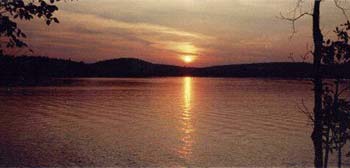 Birchbank Camp is nicely landscaped with flower beds, beautiful shade trees and a gentle slope to beautiful Lake Commanda. Truly unspoiled, Birchbank Camp is surrounded on three sides by water, we have the most beautiful sunrises and sunsets.
The natural sandy beach is on a shallow sandbar point which gradually drops off for the more accomplished swimmers. There are no sudden drop-offs located anywhere along the camp's shoreline. There is a floating dock for those who would prefer to jump or dive where the water is deeper. Water skiing is permitted from the end of the dock where it doesn't interfere with the swimmers on the beach.
Birch Bank Camp has a large grassy play area away from the lake, for children to play volleyball, horseshoes and other games. For the smaller children there is a playground consisting of swings and slides.
For those who love to fish, Commando Lake has more opportunities to fish, hunt, paddle than anywhere else around. The lake contains plenty of Northern Pike, Pickerel (Walleye) and both Large and Small Mouth Bass. There is dock space available for those who bring their own boats, or we can supply boats and motors for those who may wish to rent one.
CONTACT INFORMATION
Birch Bank Camp,
Rick and Janice
597 Limberlost Point Road
Restoule ON, P0H 2R0
Reservations: 1-800-322-9717
Direct: 1-705-729-5204

ACCOMMODATION DETAILS
Type: Lodge
Price Range: $70/room DOUBLE OCCUPANCY includes breakfast
Distance to race site: 9km
Wax room: Yes, heated
Meals: Dinner $10-$15
Extras: TV


/sites/Birch-Bank-Camp-Restoule-Ontario.html